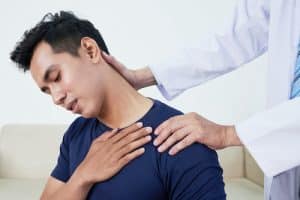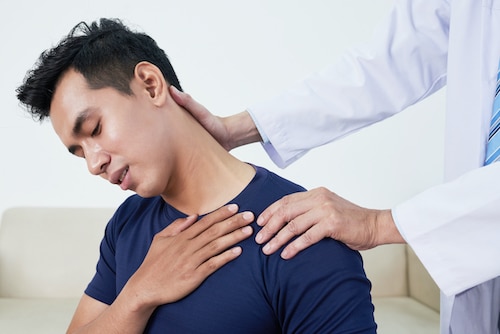 Chiropractors are licensed by their state's Board of Chiropractors after completing at least four years of academic educations and at least two years of internships with other licensed chiropractors. Specializing in natural pain relief by diagnosing and treating disorders of the musculoskeletal and nervous systems, chiropractic treatment provides an evidence-based alternative to drugs or surgery. This is one of the reasons chiropractors are considered the best neck pain doctors.
Why is a Chiropractor Considered Natural Pain Relief Specialists?
Neck and back pain, migraines, whiplash, carpal tunnel syndrome and herniated disc pain all respond positively to chiropractic procedures. Chiropractic science focuses on restoring spine health or, more specifically, eliminating vertebral subluxations. Vertebral subluxation involves vertebral discs that have moved out of their proper positions. The purpose of a vertebral disc is to act as a shock absorber cushion between vertebrae. When a disc is pushed out of its position, it may press against nerves extending out of the spine and into the body. Nerve compression due to a vertebral subluxation interferes with nervous system functioning, producing inflammation, nerve pain, and associated numbness and tingling.
Once a chiropractic neck pain specialist performs an adjustment to correct vertebral subluxation, discs are gently moved back into their normal positions and nerve compression is stopped. In many cases of neck pain, upper cervical vertebrae are suffering from misaligned discs pressing against nerves. Neck pain attributed to muscle strain, "text" neck or whiplash can usually be treated successfully with a chiropractic adjustment.
Addressing the Root Cause of Problems with Chiropractic Techniques for Neck Pain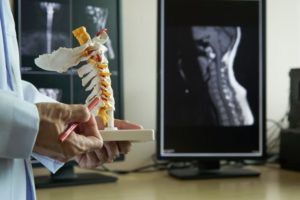 Some pain relievers, whether over-the-counter or prescription, do not address the root cause of musculoskeletal and nervous system pain. They only temporarily numb nerves to relieve pain. Once their effect wears off, the pain returns.
Nonsteroidal anti-inflammatory drugs (NSAIDS) like ibuprofen and aspirin raise certain hormones levels in the body to reduce pain. For example, ibuprofen converts acids to a hormone called prostaglandin H2. This hormone mediates pain and inflammation but only temporarily. NSAIDS may also cause unpleasant side effects such as nausea, hypertension, swelling of the feet and hands, skin rashes and possible worsening of existing health problems.
Little to No Side Effects With Chiropractic Care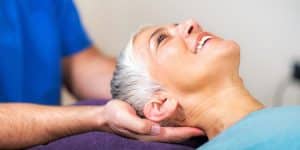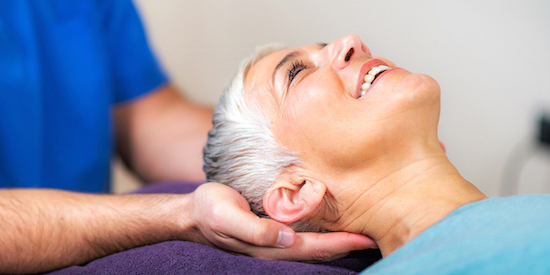 Total Wellness Center's neck pain specialist uses adjustments and decompression therapy to restore optimal health to strained neck muscles and cervical vertebrae with little to no side effects after. Decompression therapy is similar to an adjustment but involves using a traction table to slowly and gently stretch the spine. Stretching your spine eases pressure on nerves, improves blood flow to the spine and rapidly relieves back and neck pain due to nerve compression.
What is Decompression Therapy?
Decompression therapy and adjustments are noninvasive, have no recovery time (unlike surgery) and do not require you to take medications. Chiropractic techniques like decompression and adjustments can be used safely on anyone of any age. Best of all, being treated by the best neck pain doctor in Aurora and Southeast Denver means you enjoy rapid pain relief. No waiting in a doctor's office, only to be given a prescription for pain pills that take several hours to work. Decompression therapy or adjustments take less than 30 minutes and relief from pain is almost immediate.
Schedule an Appointment with the Best Neck Pain Doctor in Aurora Today
Chiropractors also have deep knowledge about holistic practices that promote overall health and well-being without resorting to synthetic drugs or surgery. Total Wellness Center is genuinely concerned about our patients' health and will do everything possible to improve your quality of life. We take time to discuss your pain condition in depth, develop a timeline of your health history and ask you to tell us what you expect out of your personalized treatment plan.
Having an experienced and empathetic Aurora chiropractor and neck pain specialist addressing all your health issues means you don't need to resort to constantly taking medications or worrying about whether you should commit to surgery. Contact Total Wellness Center today at (303) 627-7995 to make a same-day appointment at your convenience.
TESTIMONIAL
My first time coming to a chiropractor and I love it! I have never felt better. If you need some an adjustment, come see Dr. Holly!
Dr. Holly, When I came into your office today, I was having double vision and driving was very intimidating.  I had to close one eye in order to safely drive.  After my adjustment with you, I returned home and found I no longer had double vision!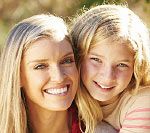 Dr. Holly, I wanted to let you know that my foot is totally recovered! Between the ice, you, and the laser, it's totally better and I thank you so much.
OPENING HOURS
| | |
| --- | --- |
| Monday & Wednesday | 9am – 12pm  3pm – 6pm |
| Tuesday | 3pm – 6pm |
| Thursday | 10am – 12pm |
| Saturday | 9am – 11am |
| Friday & Sunday | Closed |
  (303) 627-7995
OFFICE LOCATION
4024 S Parker Rd
Aurora, CO 80014
Exclusive Offer
New Patients Receive a Free Consultation